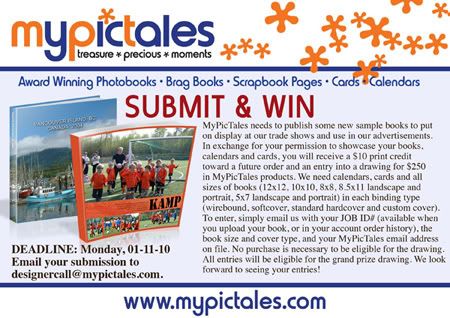 LAST CHANCE:
Final Day to Submit & Win!
MyPicTales Needs Your Projects!
DEADLINE: Monday, January 11, 2010

We are still looking for books  in 12×12, 10×10, 8.5×11 sizes in each binding type (wirebound, softcover, standard hardcover and custom cover).
Email us with your JOB ID# (available when you upload your book, or in your account order history), the book size and cover type, and your MyPicTales email address on file. If your book is chosen, you will be notified by the end of January and issued your print credit of $10 and automatically entered for a $250 grand prize draw. No purchase is necessary to be eligible for the drawing. All entries will be eligible for the grand prize drawing. Email your submission to designercall@mypictales.com.
We look forward to seeing your entries!